Under the UN Convention on the Rights of the Child Article 31, play is a human right. All state parties have a duty to ensure every child has access to play.
What is the plan for play campaign?
Research shows that children's mental and physical health is getting worse and that great play can make it better. During seven years at primary school, children spend 1.4 years at play.
We want every school to produce a plan to show how they will ensure that every child has at least one hour's outstanding outdoor play every school day.
We want the DfE to produce guidance for schools on what to do and how to do it and OFSTED to use their Intent, Implementation and Impact framework to ensure it is happening.
Parents can help by asking their children's school to develop a plan for play.
WE CREATE HAPPIER PLAYTIMES
Outdoor Play and Learning for Schools
We are a not-for-profit company supporting your school to plan for and provide outstanding play every day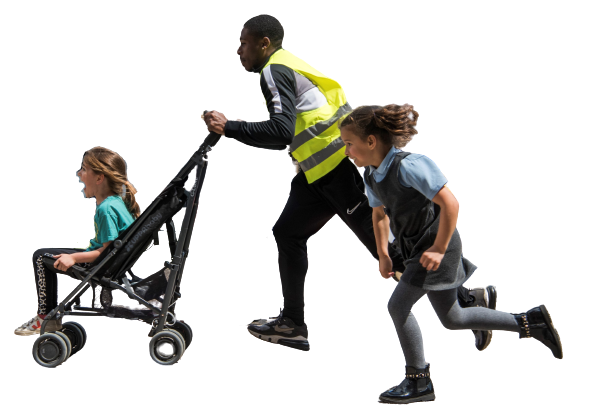 IMPROVE THE QUALITY OF PLAY IN YOUR PRIMARY SCHOOL
Amazing play, everyday, for every child
OPAL is an award-winning, mentor supported school improvement programme that addresses all the areas that schools must plan for if they want to strategically and sustainably improve the quality of their play opportunities. OPAL is the only programme of its kind that has been independently proven to sustainably improve the quality of play in British primary schools.
Its success comes from a series of interrelated actions undertaken with specialist support from an OPAL mentor. This embeds play into the school's policies and practices and establishes clear guiding principles and strategies for initiating lasting changes at playtimes.
Key Findings
Benefits from participation in OPAL
Great play at a school involves everyone. We will help transform your whole school culture around play
We help you plan how to get the most play-value for your money from your environment
Your children need to develop their play literacy and improve self-regulation through their own agency. When they do this they will become more competent and independent
We help meet children's fundamental needs and so OPAL schools have many more children who are happy and engaged and far fewer problems with behaviour
The amazing play at OPAL schools supports the development of many skills essential in modern education
Interested?
Find out more...
School Improvement
OPAL will bring many benefits to your school
We know you want your children to be happier and healthier and to get the chances to play they want and need so much. OPAL schools also see these benefits.
80% drop in reported behaviour and first aid incidents
20% more afternoon teaching time
Compliance with wellbeing inspection requirements
Increased resilience, collaboration and inclusion
Our mission is for all children to have great play at school and every school to improve its play offer, so why not make a start today using our free resources?
How well we're doing
Case Studies & Testimonials
We would love to hear from you about your school and your needs
"Don't think about it. Just do it!! Using the programme has given us a clear structure to help us transform the play experiences for our children. We are still on our journey, but can already identify the benefits to the whole school community."
Sarah Jeffery
Deputy Head Teacher
Manor Park Primary School, Knutsford

Sign up to our Newsletter